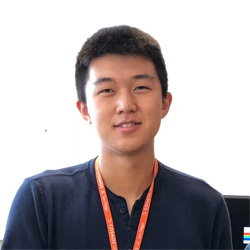 In your typical graded essays, the comments are usually an assortment of "awkwards", a couple of comma errors, and maybe a sentence or two explaning the score at the end. There is never, however, more than a page of comments breaking down the structure, direction, and depth of a single 300 word essay. And as that apprehensive high school senior who applied to way to many (29 in total) colleges, Nae was always was there to help me with incredible personal feedback through every single common app, supplemental, and uc draft. Specifically, from writing a screenplay for Swarthmore to discussing the philosophy of eternal return, Nae helped me utilize my strengths and uniqueness I would have been at a loss to implement. While other big counseling businesses feebly resign themselves to accept an applicant's mediocre work, Nae does not settle for the "mostly there" or "75%," but strives for excellence as a virtue.
Even outside of essays, Nae is a thoughtful person, a trait which is exponentially multiplied by her experience. When I first met Nae my junior year, my feeble activities list had more blank spaces than filled spaces in my common app. At this point, I was desperate to fill my sparse list with any stereotypical extracurricular activities; nonetheless, Nae rejected my mentality of self-doubt that would accept shoddy work and instead helped me find amazing opportunities. As a result of her thoughtful advice, she recommended me a tech internship, helped grow my quartet club into a 20 person ensemble, and even directed me to a college physics class where I would find myself researching cosmic rays. 
As a high schooler in the Bay Area, California, I am aware of the stereotypes students face the college admissions process. They've read the "r/ApplyingToCollege" pages and the College Confidential forums. They've seen the "has been writing Java since three years old" and the "helped decode the Acrp30 protein as part of summer internship" and they probably think there is zero chance they get into their dream colleges. But they haven't known Nae. It is rare to meet such a well-rounded individual – as a counselor, as a writer, as a friend. Even if there is a deadline in 2 days, Nae will take the time to help with one last revision of the essays. With a Hemingway-esque skill of writing, Nae goes out of her way to always provide supportive and thoughtful comments on every revision. She can name the features of every college and instantly provide suggestions to your application. But she can also name all of my activities, remembering the quirks that make me unique. 
Having known Nae for 2 years, I am supremely confident that every applicant will benefit immensely from working with Nae through the stressful and confusing college application process. With Nae's help, I was accepted into my super, super reach, dream school, number one option, and I cannot be more thankful (Dartmouth!). 

Get college admissions counseling, college application coaching, and free essay tips from Ivy League graduates.