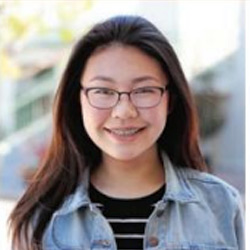 Nae was an absolute godsend during the entire college admissions process. I'd been to a number of different college counseling centers before, but none of them really clicked for me–I almost always left the initial meeting feeling discouraged, stressed, and somehow even ​more ​ confused than before. This all changed when I met Nae–after my first consultation, I felt hopeful and inspired for the first time throughout the entire process.
During every meeting, Nae helped me create action plans and set realistic goals to accomplish before our next session. As someone that struggles with getting started on tasks, I found this extremely useful, ensuring that I stop procrastinating and stay on track for important deadlines. Nae also worked tirelessly to provide me with constructive feedback on my essays, not only helping me find my individual "voice", but also helping me dig deeper to find essay topics that would expand on the experiences that made me unique.
I can personally attest to how much Nae truly, genuinely cares about her students. Last year, a couple days before the November 1st early decision deadline, I was feeling super anxious and decided that I didn't like my personal statement anymore, and I wanted to take it in a completely new direction. When I told Nae about my gripes, she responded promptly, providing me with an entire ​ ​page ​ of insightful feedback and detailed ways to rework my essay. She even called me to make sure that I was feeling good about my new drafts before I submitted them! This just goes to show how Nae goes above and beyond every time, and how truly dedicated she is to helping her students strive for success.
I'm currently a freshman at the University of Southern California, and I can say with 100% certainty that I would not be here without Nae's help. If you couldn't already tell from this testimonial, Nae is literally the best person ever, and I couldn't recommend her enough.

Get college admissions counseling, college application coaching, and free essay tips from Ivy League graduates.